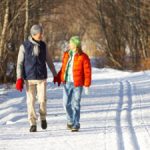 According to a recent MDOT, article "Before and after work are popular times for people to take a walk, and this time of year, it can be very dark."
We have lots of walkers and runners on our Peninsula roads. Even in the summer there have been several close calls. There are several things to remember.
"One of them was that they are walking the wrong way in the roadway, instead of facing traffic they had their back to traffic," said MDOT north region manager, Richard Liptak. "One of the other things he noticed was that in many cases they blended in with the background and they weren't very visible."
That means wearing reflective clothing and walk facing traffic. These are both very important for the safety of peninsula residents. Drivers need to slow down, look for pedestrians and remember the roads can be icy this time of year.